Product Goals:
Create an immersive experience that introduces the city of Bilgewater and supports the launch of the "Burning Tides: The Reckoning" novella. As the hub for a large scale event, the web experience also had to do some heavy lifting as a product catalog and tutorial for new game modes and items.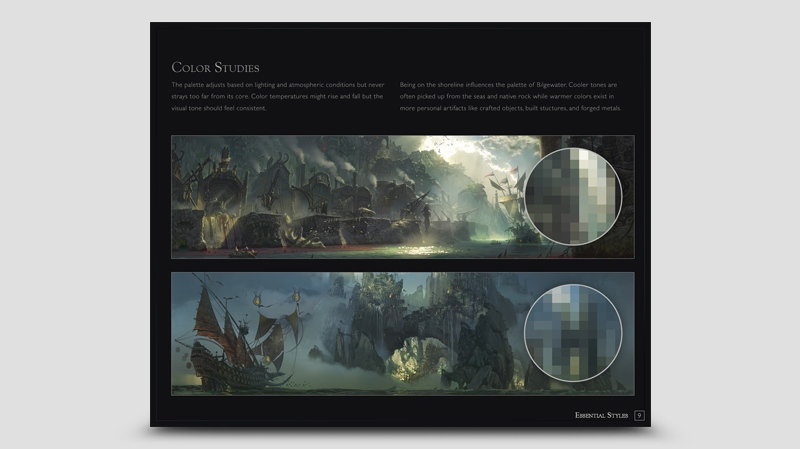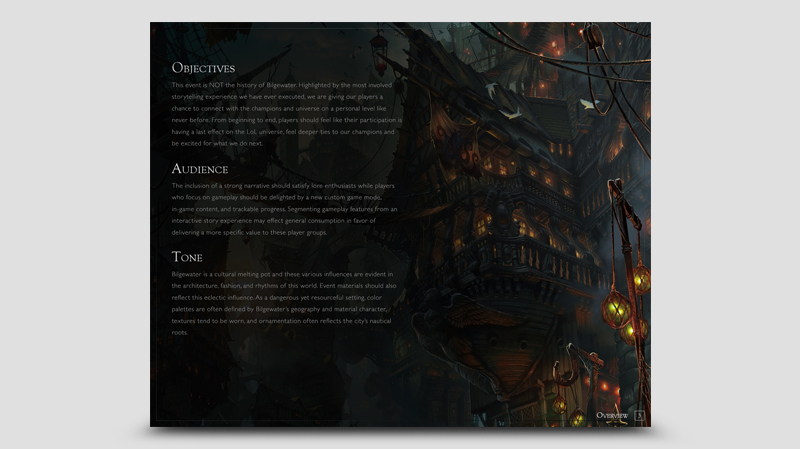 meeting the locals
To make sure my visual choices stayed true to their vision, I met regularly with our foundations team and learned about the culture and history of the city of thieves. As preproduction began I created an event style guide to allow all artists, from skins to environment, a true north. Inside the guide I detailed cultural motifs, broke down a cohesive color palette, and described what a typical user journey would look like as the content was unlocked.
art pre-production
As the "Burning Tides" plot started to take shape I began developing the concept for an interactive environment, inspired by the story's events. In addition to internal communication, I managed the creation of a unique piece of outsourced artwork to be used on the web. Pulling directly from the plot meant making sure every visual detailed was carefully created and pulled directly from the pages.
Responsive design
From the very beginning I knew the breadth of content (and the focus on a reading experience) meant we would have to target devices of all shapes and sizes. Except maybe the round ones. I produced a series of low fidelity mockups to propose how the site UX could look in action.
Event Asset Kit
As I moved from initial style explorations into more polished visuals I partnered with an illustrator to create a comprehensive asset kit that was used by all internal and external teams working on Bilgewater. Creating this consistent visual language helped users move from product to product in a familiar setting.
Bilgewater Web
The final designs allow users to read the novella as chapters are released, explore the world of the story, and browse through the entire event catalogue.
In-client Player Rewards
Choosing sides was a strong thematic throughout the "Burning Tides" storyline and the rewards experienced mirrored that, asking players to select a new champion before each act to earn their reward. Post-event data found that almost half of all players discovered the novella during this client experience and felt a higher affinity to the featured champions than in any previous event experience.
FINAL ART
I directed outsourcers to complete the final Bilgewater art piece and integrate key items and motifs that appeared throughout the duration of the event.
"THE RECKONING"
As a final thank you to players I designed a printable version of the event story, including a message from the creative team and a collection of previously unseen concept art.